N

ew Detail
---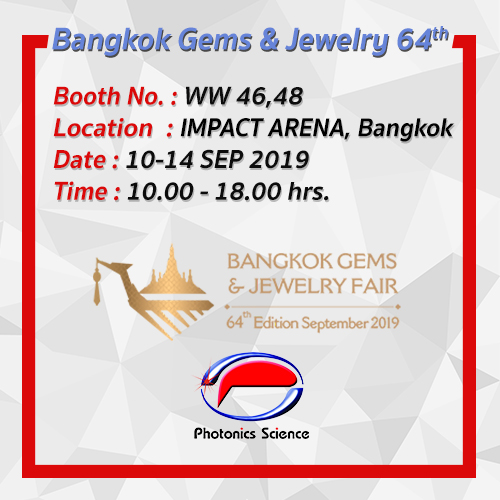 Bangkok Gems AndvJewelry Fair 64th

We Sincerely invite you and your company representatives to visit our booth No.WW46,48 in " Bangkok Gems And Jewelry Fair 64th " at Challenger 1, IMPACT ARENA Muang Thong Thani, Bangkok. From September 10-14, 2019. Time 10.00-18.00 hrs
We are leader in laser systems, integration and solution based in Thailand. We offered the best solution and the most cost effective for your jewelry industry
Highlight Product : Profiter Jewel
• Cutting Fine Jewelry, Filigrees, Laces, Ring, Pendant, Bracelet
• Cutting surface is smooth, higher accuracy cuts and excellent cutting quality
• Clean cut edges and excellent cutting quality
• Good for change the design frequently and speed up for presenting new products.
• Without mold, process reducing and save a lot of costs
It would be a great pleasure to meet you at the exhibition. We expect to establish a long term win-win your partner by providing quality products and sincere service.
Let's Check Out!!
Just reserve machine in exhibition, get up to 15% discount.
" The Best Jewelry Laser Machine "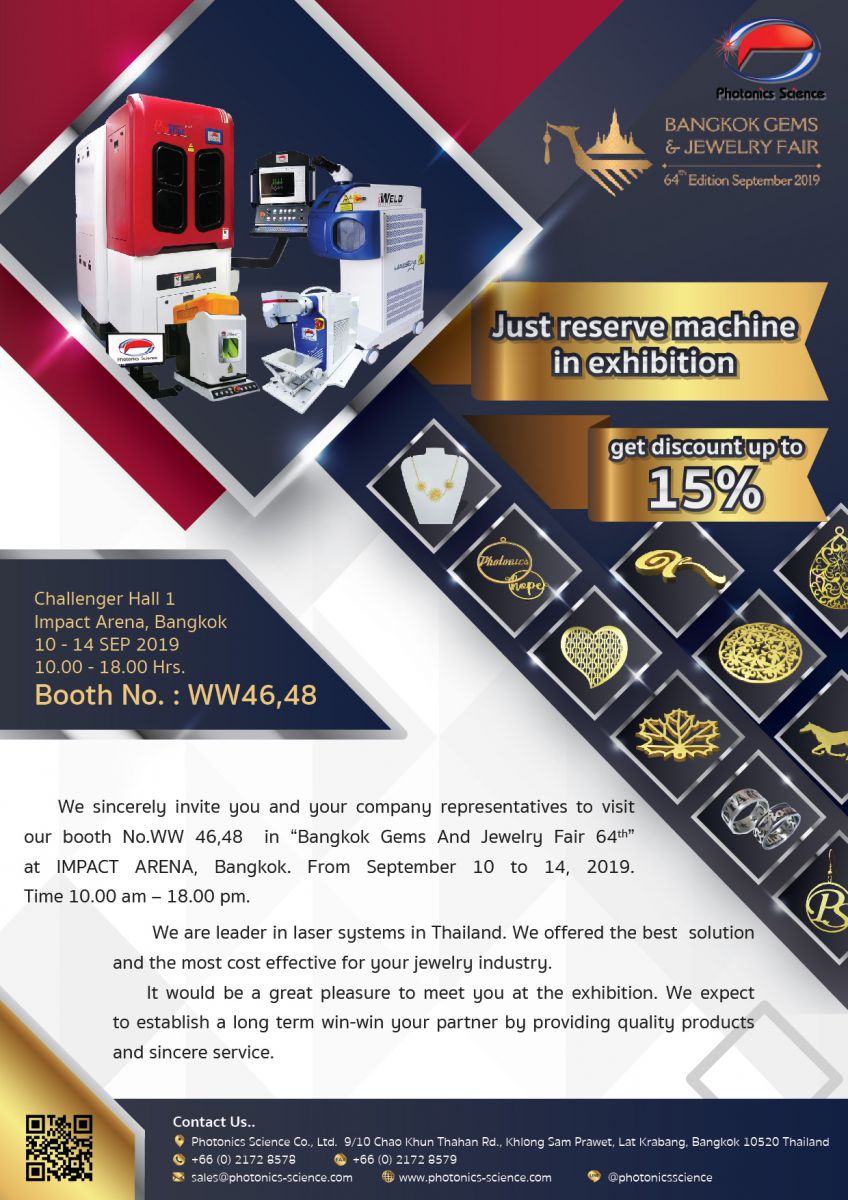 Contact us..
Line ID : @photonicsscience
Email : Marketing@photonics-science.com
Tel. : +66-2-172-8578 #28
#LaserCutting #LaserMarking#LaserWelding#เครื่องเลเซอร์#เลเซอร์แกะสลัก#เลเซอร์สตาร์#LaserStar#เครื่องแกะสลักไฟเบอร์#ขายเลเซอร์สตาร์#เครื่องเชื่อมเลเซอร์สตาร์#เครื่องยิงเลเซอร์#เครื่องเชื่อมเลเซอร์#เลเซอร์มาร์คกิ้ง#Speedy#Trotec#เครื่องไฟเบอร์เลเซอร์#เครื่องตัดไฟเบอร์เลเซอร์#เครื่องตัดจิวเวลรี่#เครื่องตัดและแกะสลักเลเซอร์#เครื่องเลเซอร์ทำตรายาง #เครื่องแกะเลเซอร์ #เครื่องตัดเลเซอร์#พลาสติกเนมเพลท #พลาสติก2สี #หุ่นยนต์เลเซอร์ #เครื่องเลเซอร์สั่งทำพิเศษ #ไฟเบอร์เลเซอร์#แหล่งกำเนิดเลเซอร์ #อะไหล่เลเซอร์ #อุปกรณ์ป้องกันเลเซอร์#LensWipesกระดาษเช็ดเลนส์เลเซอร์ #CleaningKitsชุดทำความสะอาดเลนส์เลเซอร์ #LensHolderแท่นวางเลนส์เลเซอร์ #NitrileGlovesถุงมือทำความสะอาดเลนส์เลเซอร์ #Propanolน้ำยาเช็ดเลนส์เลเซอร์#Sparepartอะไหล่เลเซอร์ #1micron #1ไมครอน #Fiberlens #ไฟเบอร์เลนส์ #Protectiveglass #Protectivewindow #โพรเทคทีฟกลาส #โพรเทคทีฟวินโดว์#ผลิตโดยคนไทย #มีบริการหลังการขาย#ขายเครื่องเลเซอร์#เครื่องตัดเลเซอร์#เลนส์เครื่องตัดเลเซอร์#ซ่อมเครื่องเลเซอร์