A

rticles
---
Recommended high quality CO2 lenses from Ophir
Ophir's CO2 laser lenses are available in 3 grades :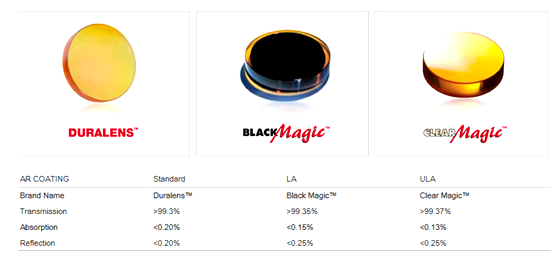 Can be selected by grade. To suit the application
Chapter 1 : Standard Lens
1. Standard AR coating : Duralens™
High-Quality ZnSe Lenses for High-Power CO2 Lasers
Designed for high durability and accuracy
Highlight
- Absorption ≤ 0.2%
- High durability
- OEM approved
- Available mounted or non-mounted
- Available for all major laser OEM'S

Duralens is a very low absorbent lens, only ≥0.2%, which makes the lens heat resistant than any other brand in the market, making it far more reliable than any other brand. ***
This lens is suitable for laser cutting. That is not heavy Or use high power cut not too long. This will result in good quality cutting. But the effectiveness in cutting will begin to decrease gradually.
When cutting with heavy loads, such as cutting several hours or too thick, too thick.
The lens is very hot (Heat), the focus of the focus is reduced.
Can be selected to suit the focus with 3 options :
1. Focus 5" suitable for thin cutting 1-5 mm
2. Focus 7.5" suitable for medium thickness 6-15 mm
3. Focus 10" ideal for cutting to a thickness of 16-25mm
*** Unless the problem can be caused by other causes, then the effect.